Peter Deas and the Growth of Church Street, Buckhaven
My Laverock ancestors were long resident in Buckhaven, for several generations from at least the 17th century. Recently I found reference to a property called Laverock Bank, named as such in the 1891 census. Pinpointing exactly where it is/was has given rise to some detective work. The relevant part of the 1891 census simply listed house names, with no specific street or street numbers given as the norm, though one unanmed house was simply recorded as 1 Church Street. However, the first house in Church Street today, Braehead House, is number 5 and was clearly identified as Braehead in 1891.
Following the street back through the census of 1881 and 1871, it was clear that the same houses were in the same sequence, with minimal changes in occupancy. From this it was possible to recognise the same houses and eventually identify their location today.
Church Street is the location of what appear to be the largest houses in Buckhaven: mostly detached villas in sizeable gardens, very different to the houses of the old fishing village or even the other Victorian streets nearby. This was not where I was expecting to find my family.
Census
Year
House identified as
Rooms *
Head of household
Notes
Census ref.
House #1
1871
8
David Cairns, coalmaster, aged 49
1881
Church Street
9
David Cairns, coalmaster, aged 58
1891
1 Church Street
8
David Cairns, coalmaster (employer), aged 68
1901
Silverside House, Church Street
11
Archibald Bowman, coalmaster (employer), aged 57
Appears on the 1950 Ordnance Survey map as Rothart
House #2
1871
8
James Cairns, coalmaster, aged 55
1881
Church Street
9
Agnes Reid Cairns, aged 60
widow of James Cairns
1891
Hollywood House
8
Agnes Cairns, aged 72
widow of James Cairns
1901
Hollywood House, Church Street
8
Agnes Cairns, aged 52
widow of James Cairns
Appears on the 1950 Ordnance Survey map as Hollywood
House #3
1871
8
Lawrence Bowman, coalmaster, aged 54
1881
Church Street
10
Lawrence Bowman, coalmaster (employer), aged 63
1891
Portvue
8
Mrs. L. Bowman, living on private means, aged 77
widow of Lawrence Bowman
1891
Port View, Church Street
11
Janet Geddes. Colliery Shareholder, aged 53
daughter of Lawrence Bowman and widow of George Geddes
Appears on the 1950 Ordnance Survey map as Ravenswood
House #4
1871
8
William Ireland, Hemp & Flax Spinner (master), aged 33
1881
Church Street
8
William Ireland, Hemp & Flax Spinner & Twine Manufacturer (employer), aged 43
1891
Gray House
10
David Millar Pryde, Draper & Registrar (employer), aged 46
1901
Gray House, Church Street
8
David Millar Pryde, Draper & Registrar (employer), aged 56
Appears on the 1950 Ordnance Survey map as Gray House
House #5
1871
11
Peter Deas, Draper, aged 35
1881
Church Street
8
Peter Deas, General Draper, aged 44
1891
Laverock Bank
8
Peter Deas, Draper & Clothier (employer), aged 54
190
Randolph Lodge, Church Street
8
John M. Dawson, Doctor (General Practitioer), aged 30
Appears on the 1950 Ordnance Survey map as Randolph Lodge
* The different census enumerators seem to have had varying interpretations of 'rooms with one or more windows'.
Maps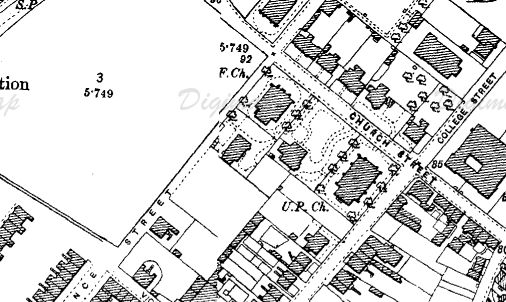 1893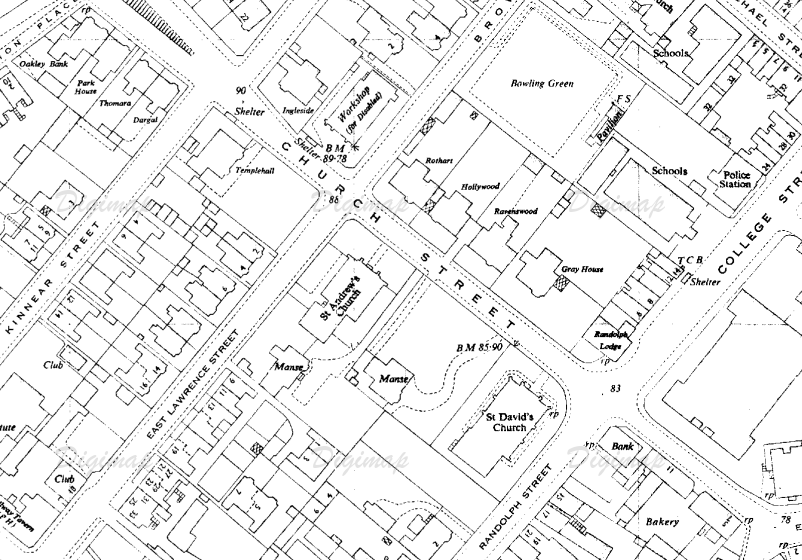 c1950
The People
Bowman, Cairns & Muiredge
The first three houses above were those of coalmasters (colliery owners). As the following shows, they were all related to each other.
"DEATH OF A COALMASTER - Mr David Cairns, of the firm Messrs Bowman & Company, coalmasters, Buckhaven, died at his residence, Ashburn, Crail, on Tuesday. A native of Crossgates, he started coal mining with his brother James, and his brother-in-law, Mr Lawrence Bowman, father of Mr Archibald Bowman, now the principal partner of the above-mentioned firm. They began operations in a small way at Muiredge over forty years ago, and extended their operations year after year, till now the business is one of the largest and most prosperous of the kind in the county. Mr Cairns retired from an active interest in it some ten years ago, and has since lived quietly in Crail. He was twice married, and is survived by his second wife (who is a sister of Mr William Roger, Kingsbarns), by two sons by the second marriage, and several sons and daughters by the first marriage." (Dunfermline Press, 28 January 1905)
For further details about Bowman, Cairns and Muiredge Colliery, see http://www.users.zetnet.co.uk/mmartin/fifepits/starter/east/pits/m/pit-3.htm
William Ireland, inventor
As well as being a textile manufacturer, William Ireland developed and patented his own means of printing on fabric.
"William Ireland, of Buckhaven, in the county of Fife, North Britain, Manufacturer, has given the like notice in respect of the invention of 'improvements in printing textile and similar fabrics, and in the machinery or apparatus employed therefor.' As set forth in his petition, recorded in the said office on the 10th day of August, 1874." (The London Gazette, 24 November 1874)
It looks likely that William was the son of John Ireland, who owned the herring net factory in town.
Peter Deas
Peter was perhaps the odd one out. The Deas residence was far less grand than the others and his business was far less successful. The Commercial Gazette of London contained a notice to his creditors on 24th April 1895. At the time of his death in 1910, he was working as an account deliverer in Glasgow.
Peter Deas was also amongst the founder members of Lodge Randolph (Freemasons). The first meeting was actually held in his house on 1st September 1890. (see http://www.randolph776.org.uk/index.php/history). It is reasonable to assume that the renaming of the house has its source in this event. The 1885 Valuation roll describes the property as 'House, Shop and Garden' and Peter as proprietor. It is reasonable to assume that he lost the property around 1895.
Conclusion
Church Street was the first and only street of its kind in Buckhaven. Built almost as an elite enclave, it was home to some of its most prosperous residents, much of it built with coal money. This exercise, which began as a simple one of trying to locate a particular house, has sone a useful light on how Buckhaven was developing over the 19th century. As coal was supplanting fishing as the dominant industry, this street would have been one of the main routes from the town to Muiredge Colliery.