David Stewart Littlejohn (1822-1908) solicitor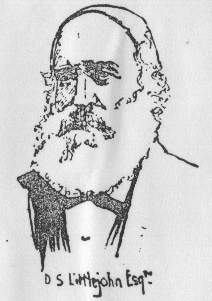 David Stewart Littlejohn was born at Forfar in 1822. After spending a few years in a solicitor's office there, he moved to Edinburgh to gain his legal qualification. He entered into partnership with Gershom Gourlay in the 1850s, under the name of Littlejohn & Gourlay, which lasted until 1864 when Gourlay rejoined his family shipbuilding business.

In 1871 he formed a partnership with his cousin, Thomas Littlejohn, under the name of D. S. & T. Littlejohn. This was also subsequently disolved. He was next joined in partnership by his son, David Harrower Littlejohn and by F. R. Scott.

In 1885 he was appointed Honorary Sheriff-Substitute by Sheriff Comrie Thomson, confirmed by Sheriff Johnston. His 1890 lecture to law students on Scots Law was subsequently published and ran to several editions.A founder of the Forfarshire Building Society, D. S. Littlejohn was also chair of several Colonial and other investment companies.

As a resident of Broughty Ferry from 1849, he was an early advocate of the adoption of the Police Act there. Following its adoption he served as first Commissioner until 1895. Following the Education Act, Littlejohn served as clerk until shortly before his death. He was also a Captain with the 4th Forfarshire Artillery.

He died at his home, Balgillo Cottage, Broughty Ferry, in 1908.
---
Sources consulted: Obituary Files (Central Library, Dundee).